Appliance tip of the week.
---
Microwave Door Switch Help
---
Most microwave door switches can be tested for continuity to see if the switch has failed. This can "fool" you sometimes. This switch looks fine, tested fine with an ohm meter and even made the "click" noise ok when we pressed on the actuator button.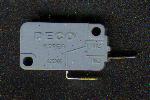 BUT,
Once we opened up the switch, it became clear this switch's contacts where being overheated and failing = new switch time.
This switch "looked" ok, "checked" ok with an ohm meter...but as you can see...it is not ok.
---
Microwave Repair Parts
---
Component Testing
** REMEMBER! **
The microwave can still shock you even unplugged!!
Use a metal ( not the shiny chrome type ) screw driver with a insulated handle to short across ( touch both at the same time ) the terminals of the
high voltage capacitor
to discharge it. With the microwave unplugged.
This is a common way to do this....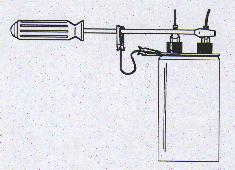 ---
Popular Appliance Part Help Links...
Find appliance parts, lawn & garden equipment parts, heating & cooling parts and more from the top brands in the industry here.
Finding the Right Appliance Parts At the Right Price Just Got Easier From AppliancePartPros
jeff.