Appliance Tip of the Week...
---
Ice Ball Kit
---
---
This kit contains a heater and seal kit to stop moisture from creating an ice problem in the refrigerators dispenser center. This kit seals gaps in the beverage center.
This GE refrigerator kit solves what GE describes as an ice ball problem where an ice ball forms in the refrigerator side and block the air flow from the freezer section which causes the refrigerator section to get too warm and spoils food.
Dual Evaporator models, by design, create a high humidity environment in the fresh food section. Although this design improves the preservation of certain refrigerated foods, the potential exists in some units for an ice ball to form in the lower section of the compartment due to excessively cold temperatures and high humidity. The low temperatures are created by gaps around the beverage center duct and along the left side of the Custom Cool air handler cover. These locations can be sealed and the temperature improved using the service kit.
---
Duel evaporator refrigerators Side by Side. Serial numbers AG - ZM.
Model numbers affected: PSF26P, PSS26P, PSW26P, PSF26R, PSW26R, PCF23P, PSC23P, PSH23P, PSW23P, PCF23R, PSW23R, PCF25M, PSC25M, PCF25N, PSC25N, PCF25P, PSH25P, PSC25P, PSH25P, ZFSB23D and ZFSB26D.
---

Search by your model # to see breakdown diagrams
---
My fresh food section has the ice ball forming in the corner and the temperatures are warmer than desired. (Showing about 40 but set to 34). I've replaced all thermistors and the main board. Does the ice ball kit correct temperature control problems? I've already sank a lot of cash into repairs, just don't want to spend more than we have to on this unit. Thanks.
Model Number
PSC25MSWCSS
Yes this ice ball kit is for this issue of the ice ball forming in the corner.
---
I have a large ice ball in the back of the refrigerator section. Can you advise if this kit works in my refrigerator? Can you describe the parts that it includes or replaces.
Model Number
PSH23PSSBSV
This ice ball kit is listed as a part that will work on the model provided
---
Had a repair man look at the frig and was told it needs an AC de ice ball kit and sensor temp. Are these difficult items to replace or should I have it done.
Model Number
PSC25SGSCSS
The parts could be installed by a consumer as it comes with instructions that tell you how to do the repair
---
Shows this repair kit is compatible with the PSS26PSTASS. but when I check the model for compatibility before ordering, it says it's not compatible. Can anyone help?
Model Number GE profile Arctica
PSS26PSTSS
This AC De ice ball kit is for your unit. The reason it does not show compatibility is because it is not listed on the parts screen breakdown of your unit as it is an add on part.
---
GE Refrigerator Ice ball Kit Help...
---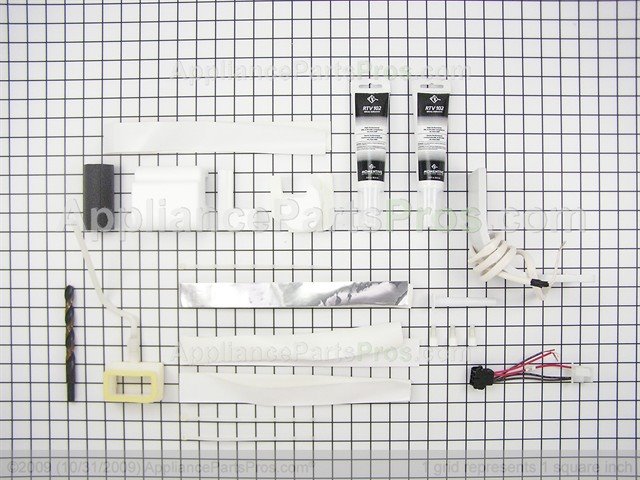 GE refrigerator de-ice kit
Item Number WR49X10180
Related GE Refrigerator Repair Kit Links
Refrigerator air inlet cover/damper kit with fan motor, Damper and fan assembly have been updated to prevent freezing food in the refrigerator
Refrigerator main control board assembly with installation instructions, This board also has the defrost controls built into it
jeff sr.