Appliance tip of the week.
---
Problems with your dishwasher not draining:
---
Quick tips: Not draining the water out....
Check for hose kinks or food plugging drain hose. Start at the drain port exit ( there are others, this is just an example ) ALL the way to the house drain hose port.
Check the check valve and drain hose for debris.
Check for a separate drain pump as many dishwashers today have 1 pump for washing only and one pump for draining only. This drain pump can stop turning, can become jammed with something, can seize up.
Check pump motor for reversing during the pump out make sure the dishwasher is pausing between the wash and drain cycles letting the pump/motor reverse for the drain cycle.
Check timer for not letting the dishwasher pause. ( not all dishwashers )
Check pump motor assembly for a drain solenoid, during the pump out make sure the solenoid makes that distinctive "clunk" noise
If you have recently installed a new garbage disposal, check knock-out plug at connection.
Check pump impeller for damage.
Check that the water inlet valve isn't seeping fresh water into the dishwasher when off.
---
---
Dish Preparation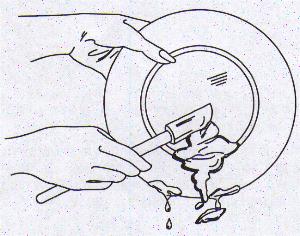 Scrape away large pieces of food, bones, pits, toothpicks, etc. Burned on food should be loosened before loading. Empty liquids from glasses and cups. Foods such as mustard, mayonnaise, vinegar, lemon juice and tomato products may cause discoloration of stainless steel and plastics if allowed to sit for a long period of time. Unless the dishwasher is to be operated at once, it is best to rinse off these food soils. Load racks so that large items do not prevent the detergent dispenser from opening.
If the dishwasher drains into a food disposer, be sure disposer is completely empty before starting the dishwasher
.
---
Problems with your dishwasher not draining:
---
Common solutions are
linked here
for dishwashers not draining.
Shop Dishwasher Drain Pump Parts
---
Even more common solutions are
linked here
for dishwashers not draining.
Dishwasher Pump Parts
---

Spring Season Arriving Soon! Use Code:- SPSALE10 & Grab Extra 10% Discount + Free Shipping on all pet products
---
---
Related Links
Clearance Sale - Dishwashers
Closeout Built-In Dishwashers - Now In Stock
Stainless Steel Dishwasher Cover Decal - 1 Dishwasher Magnet Cover - Many Different Colours (Stainless Steel)
Frigidaire - 18" Built In Full Console Dishwasher
jeff sr.